A workshop on implementation of provisions of COTPA 2003 for officials of different departments at Tehri district was held at Tourist Rest House, Garhwal Mandal Vikas Nigam, New Tehri on 16th January 2014. Workshop was inaugurated by Sh. Nitish Kumar Jha, District Magistrate, New Tehri by lighting the lamp. He was joined by Dr. S. P. Agarwal, Chief Medical Officer, Sh. Govind Tripathi of the Union, Sh.Aditya Agnihotri, Consultant, Tobacco control Programme and Sh. Ajit Tomar of the Balajee Sewa Sansthan.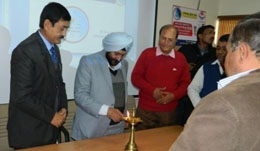 Dr. S.P. Agarawal, Chief Medical Officer gave a brief summary of the provisions of COTPA and how these can be implemented in the district. Sh. Jha,District Magistrate dwelt upon the need of curbing menace of smoking citing its harmful effects on its users as well as the society at large. He asked the team to take the task seriously and work towards a smoke free Tehri district. Same types of workshop has been organised by the BSS in 107 training hall, Chander nagar Dehradun with the help of Tobacco control Cell Dehradun.
We have also organised district level capacity building workshop of the stakeholder in Dehradun. Workshop was inaugurated by Dr.Gurpal Singh, Chief Medical Officer, Dehradun by lighting of camp. In his address he welcomed the participants and urged them to work whole heartedly for implementing the Anti Tobacco Act in letter and spirit. Participants in the workshop were different from previous day workshop on Law enforcement. They included officials from Health, Media, NGOs and unions of tempo, maxi cab, truck and vikram etc. List of participants is given at the foot of the report.
A programme on smoking and tobacco abuse for students of BFIT , Suddowala was organized at auditorium of the institute on 31st January 2014. Main idea of conducting workshop was to make young minds aware of the harmful and addictive effects of tobacco products. on their users and spread a message against starting smoking and tobacco use and in case of users to wean them away from the habit lest it takes dangerous turn.