BSS was chosen by Uttarakhand State Aids Control Society (USACS) in 2011 to work with the migrant population in Dehradun district under Targeted Intervention Programme. We feel privileged to be able to continue with this much-needed service to society. Targeted Interventions (TI) are a specific set of intervention in HIV/AIDS Control Programmes, meant specifically to reach out to groups seen to practice high-risk behavior (HRG). The High Risk Behavior Groups mainly comprise of Female Sex Workers (FSW), Injecting Drug Users (IDUs), Men having Sex with Men (MSM) and Bridge Groups (Migrant workers, Truckers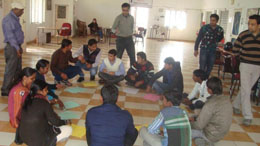 and Local Transport Workers). Apart from prevention of HIV infection, TIs facilitate prevention and treatment of sexually transmitted diseases, as they increase the risk of HIV infection, and are linked to care, support and treatment services for HIV infected.The TI is implemented through the NGOs. We have been entrusted with working with the migrant population in Dehradun and we have focused upon migrant people in Dehradun and Selaqui. In the year ended 31st march, we have covered 10000 People under the programme, which included interaction with the migrants, knowing their sexual behavior through persuation , involving the community leaders, Behaviour Change Communication, Treatment of Sexually Transmitted Infections, Condom Promotion and enabling environment & Community Mobilization.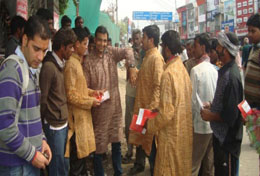 Emphasis has been on identifying the HRG people and counsel them to going for testing, treatment of sexually transmitted diseases and if found infected with HIV, to take them to the ICTC for treatment and counsel them on how not to spread the disease and how to live with the virus. Counseling helps people to understand that they can lead a normal life, provided they take ART and keep a positive attitude.