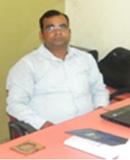 Awadhesh Kumar - Executive Director and Chairman of Balajee Sewa Sansthan is an MBA from IMT Ghaziabad and CA (Inter) ICAI. He is a dynamic professional with more than 15 years of experience in micro-finance institution management as well as process structuring and internal audit functions. He has experience in fund raising too.
Awadhesh has had extensive experience in the field of livelihood generataion, micro-finance and co-operative promotion, in Nidan-leading national level NGO as well as MFI in Bihar. Whilst working as credit cum programme manager of micro-finance, he initiated the mico-finance services and built healthy portfolio, expanding it to four districts of Bihar. In 2006 Awadhesh became one of the leading team members of new MFI (Mimo Finance) launch of microfinance services in Uttrakhand. He was the Director of Finance & Accounts and earned valuable experience in financial management.
Awadhesh has impressive leadership and communication skills along with excellent team supervision abilities. His vast experience in the preparation and implementation of challenging development project in interior rural areas, is being well utilized in BSS. An energetic and team spirited man, with strong work ethics, he believes "Things just don't happen automatically, you have to make then happen", and "It is not just the end that matters, but also means".
He is currently member of :
State Level Tobacco Control Co-ordination/Monitoring Committee of Uttrakhand
District Level Tobacco Control Co-ordination/Monitoring Committee of Tehri & Dehradun
District Inspection committee of PC-PNDT department, Dehradun
Member of PTCC, TB free India Campaign and other many network partner.
Member of PHD Chambers & Commerce
Member of DLCC of Saharanpur & Bijnaur district tobacco cell